As Nancy Novak Returns for a Final Farewell, One Writer Seeks to Understand her Polarizing Legacy
Less than a week after I signed up to profile Nancy Novak, I realized it would be anything but reporting as usual.
For starters, there's absolutely no need to dig for dirt or persuade sources to talk. Even five years after the last drink was poured at Novak's Bar & Grill on Manchester in The Grove, everyone in St. Louis who so much as set foot in any of the establishments Novak operated between 1996 and 2013 seems ready to talk.
Everyone, that is, except for Novak herself. Assuming that her words would comprise the heart and soul of the story, I pursued her. Novak is 64 and has terminal cancer. She had returned to St. Louis from her retirement in California for a reunion of sorts across the street from the building that once housed the bar that bore her name. Naturally, I wanted to sit down with her and listen to her life story in her own voice, in her own words. We exchanged messages, most of them polite, and she even agreed to an interview a few times, but then, each time, withdrew her offer.
And then, on the morning of my final attempt, her words once again lit up my phone with what seemed like another rejection. But after I reread her text a few times and thought about it for a while, I realized her very brief message was actually instructive: I'm not a good interviewee, you should write what the people say.
Her fans are among the most ardent I've ever encountered. At the other end of the spectrum, however, her detractors are adamant about having the last word in her story.
There's very little middle ground. Most of the stories portray Novak in terms that are often absolute and occasionally extreme. She's either a saintly figure who wanted nothing more than to help people, or she's a sinister, calculating, drug- and alcohol-addled profiteer with zero business instincts who hid behind good times and good causes. The more I listened, the more drawn I became to the versions of Novak that suggest a more complex, nuanced character.
They're harder to find, but here's one: Novak hosted a fundraiser for the victims of the 2011 tornado that killed 161 people in Joplin. That's a generous thing to do, I think. But the story quickly takes a turn. After the event, a photo of the envelope, stamped and clearly addressed to the organization for which the fundraiser was held, was posted to Facebook. Ostensibly, this was to underscore Novak's generosity, but according to some, the move reflected a need to document the check actually being mailed because Novak wasn't to be trusted with money. "It was widely suspected that she was skimming from fundraisers," I was told by Harrison Roberts, who became familiar with Novak's antics in his former job as bar manager at another prominent St. Louis establishment.
So much of the story of Nancy Novak is stacked atop a foundation of these types of details: She was suspected of saying and doing many things. The specificity of what people recall about her coupled with the absence of anything you might call proof, or resolution, evoked in me a weird mix of responses. It didn't take long for me to regard her and her legacy as simultaneously infuriating and intriguing. But when it came to the partying, there was no shortage of firsthand accounts. Not that Novak ever downplayed living a fast life.
I was told by more than a few individuals, including former patron Wendell Shell, of boozy evenings that ended with Novak passed out, hoisted up and carried off the premises by members of the group of people known as her entourage. Several people told me that they'd witnessed the spoils of the Novak empire disappearing up her nose. Former neighbor Matt McIntosh recalls a constant party at Novak's Tower Grove South home.
"Even at 10 a.m. on a Saturday! Whenever she'd see us, she'd yell, 'Come on over! Have a beer! Take a hit!'" McIntosh recalled, and he wasn't complaining. Others on Wyoming Street described "shady characters" knocking on their doors late at night, confusing their homes for Novak's. Employees' paychecks reportedly bounced. Rumors swirled about how she sabotaged other bar owners by tearing up promotional materials and making incendiary remarks on Facebook. More than once, she persuaded patrons to donate money by announcing that Novak's Bar and Grill was on the verge of financial collapse, that matters were dire, and then, cash in hand, left town to take a lavish vacation.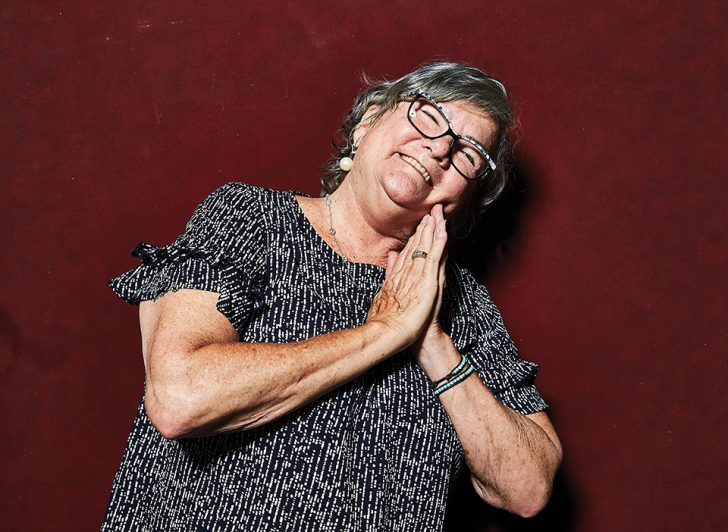 On a hot, bright afternoon at the end of July, I went to Just John in The Grove. It was only my second time in the storied establishment (I'm old, I've been sober for more than a decade and I lived away from St. Louis for many years). My first time at Just John was for a Claire McCaskill rally, held on the bone-deep cold Sunday afternoon in November two days before she lost her senate seat to Josh Hawley, a Stanford- and Yale-educated conservative who successfully demonized her as an elitist. On my return visit in July to the bar, Novak was the guest of honor. The event, organized by her friends, was meant to pay tribute to Novak's many contributions—"Nancy Novak unified Midwestern queer culture," declared Out in STL's sister publication the Riverfront Times the day before the party — and to raise funds to help make her final months as comfortable and enjoyable as possible.
I knew Novak had arrived at Just John before I actually saw her. She has the sort of presence that alters a space at the molecular level when she enters it. I first caught sight of her standing beside the well-stocked buffet table, surrounded by friends. I'd come to the party to prepare for the interview we were planning to do the following week. I wanted to hear how people recalled her and her bar. I wanted to watch her reconnect and interact with her old circle. Since Novak and I had never met in person, one of her friends introduced me to her as the writer from Out in STL who would be interviewing her the following week.
As we shook hands briefly, two things struck me about her physically: She has a very direct, intense gaze, and, in a way that seems contrary to the scope and scale of her reputation, she's short. (I had the same reaction when I met Tonya Harding.)
On the tiered, deceptively deep patio of Just John, which was wall-to-wall lesbian that afternoon, I heard many of those kind words about Novak, the details of which I jotted down in my notebook under the heading "St. Nancy." That's sarcasm on my part, of course, but what people shared with me was powerful:
Novak's Bar and Grill was where I learned to be comfortable with myself, which was a lot harder to do back then.
Novak's Bar and Grill was where I discovered we could band together and create our own community.
Novak's Bar and Grill was where I learned, for the first time, that the girls I'd gone to school with in Kirkwood didn't get to write the rules that governed my life.
I talked to one woman who worked her way through college as a Novak's employee. She credits Novak — the establishment and the woman — with providing the stable infrastructure she needed to become an adult. She was young, new to St. Louis and often broke, she told me, and there were plenty of nights she spent at Novak's simply because she had no place else to sleep.
When I asked her what she thought of all the negativity that seems to swirl around Novak, her response surprised me. I was expecting defensiveness, denial. Instead, she referenced football. "A star quarterback's best plays," she told me, "are rarely made toward the end of his career."
A while later I chatted briefly with one of the few men at the celebration. The man, who is 30, recalled Novak's as the place where he first witnessed lesbians and gay men getting along together, as if they were in fact playing for the same team. Away from Novak's, he says relations between men and women in the queer community were, and sometimes still are coarse at best. Another thing about Novak's, he added, is that the bar was a place where people who were just starting the process of coming out took the brave and frightening first steps out of the closet. That was important, he said, and I agreed. And then I left.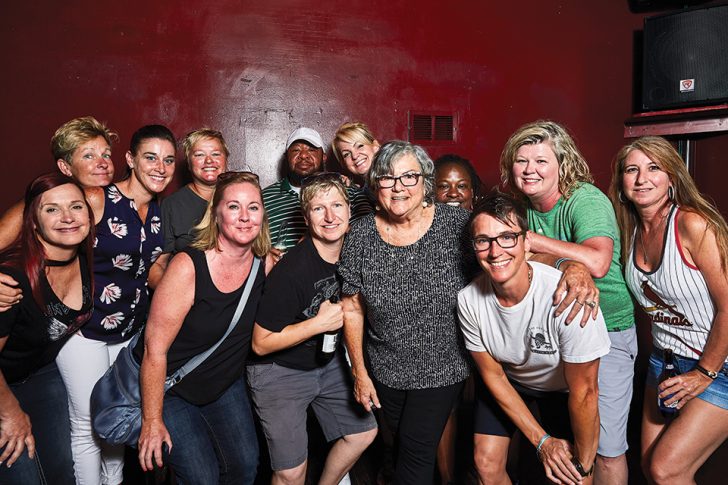 Unfortunately, the handshake I'd shared with Novak shortly after her arrival wasn't just the beginning of the pleasantries between she and I but the end as well.
The first time she backed out of our interview was due to her belief that I was holding the photos taken at the party by the Out in STL photographer hostage in exchange for an interview. I explained that I had nothing to do with the photos, that I was the writer, that we'd scheduled the interview, and that I'd be happy to ask the photographer to contact her. To which she replied: I wanted a photographer not an article. Can you understand?
Then, a couple of days later, she asked if I wanted to talk at noon the following day. Yes, I replied, with guarded enthusiasm. I'd love to.
An hour or so before we were scheduled to talk, my phone came to life and Novak backed out of our interview for the third time. Her life was too short for more negativity, she wrote. She told me she couldn't really explain why people are negative about her; it's something she doesn't want to know about, she explained, much less read about. She told me she considered herself lucky that she'd been so successful. I don't want to talk about what some others think, she texted. I never did anything wrong. Too much partying maybe yes!
She was just a few edits away from finishing her book about Novak's, she added. What she'd really love to do is open Novak's in the same spot to leave for everyone as she departs this earth, but she doesn't have any money.
And, regarding the celebration at Just John, this: My fundraiser the other night was just what I needed. People told me over and over, how much I changed their life! I didn't know this. It felt so good, and I will take all those kind words to my grave.
Like so many I know who came of age before swipes and likes became mating calls, gay bars were for me stations along the queer version of the Underground Railroad. I didn't learn how to hold hands with other boys at high school dances or Friday night football games or at activities organized and chaperoned by a church youth group in the suburbs. Instead, I got my hands on a fake I.D. and drove with trembling knees and an accelerated heartbeat to a bar on Olive called the Upside Downtown and then, when that closed for the evening, across the river, to East St. Louis, where, as my young mind interpreted it, there were so many boys and men who had come out for the sole purpose of meeting each other that the place needed to have three levels to accommodate it all.
In a way that my pre-millennial heterosexual friends and relations will probably never understand, those bars were so much more than the sum of their parts. I spent the first twenty years of my life being told what was wrong with me; for me and so many others, these spaces where I was finally able to experience what was right with me became, in some sense, a home.
Throughout my attempt to get to the core of who Nancy Novak really is, over and over, on the patio at Just John and during other conversations, I listened to perfect strangers tell me a story that was as much mine as theirs. No matter what people think of Novak's personal or business conduct, the places she created had meaning.
For me, the sense of belonging and purpose I felt for the first time in my life in gay bars in various cities was transformational, but it was in those same gay bars that I came to associate consuming alcohol with a newfound sense of ease and comfort. As time passed, creating those warm, comfortable sensations required more and more alcohol. I'm far from alone in that experience: It's a trap far more of us have fallen into than I would have ever imagined.
I quit, eventually, right before the election of the first president to openly declare his support for same sex marriage, but I left plenty of wreckage in my wake. And rather than take responsibility for my own conduct, I've harbored a usually quiet grudge during the past several years against not just the owners of gay bars but the alcohol industry's lobbyists and marketing teams as well. In the name of liberation, they've poisoned so many vulnerable people and turned a nice profit in the process. Until I began chasing Novak down for an interview, I was bitter about that.
"We all made bad decisions," said Karla Templeton, a former employee, who recalled being broke because of her own choices even though she earned $60,000 per year working at Novak's, where she held a number of positions, including bar manager. "She can't take the blame for everything."
Templeton acknowledged that her paychecks did sometimes bounce, and that Novak was far from perfect, but these days she takes a much more holistic view. "Nancy carried the community in many ways, but as a community we are quick to place blame," she said.
I asked Templeton how Novak carried the community. "Whether it was Komen research for breast cancer or buying baseball jerseys, she donated tons of money and was always very supportive of the underdog," she said. "I feel like in so many ways she was always there for people. She insisted that all of us, as employees, made sure that everyone who walked through the door felt safe, loved and welcome. She was an advocate and an ally before we even knew what those terms meant, yet when she became tired and behaved like a human, we lashed out and stripped her down. Kinda like a lesbian Atlas."
In the end, Templeton believes the collapse of Novak's Bar & Grill was a community affair. "Everyone played a part in the demise of 4121 Manchester," she said.
After I left Just John, I walked across the street to take a closer look at the actual building. The afternoon had started to fade into a comfortable, rose-hued evening of sun-warmed bricks and ripples of pleasant laughter in the near distance. Almost every aspect of living is so different today than it was in 1996, when Novak first got into "the bar biz," as she described it in one of our early texts, that it's hard to place her and her trajectory into a current context. My belief is that regardless of her personal strengths and weaknesses, we needed the space at 4121 Manchester and others like them. We wouldn't have arrived where we are today — not that where we are is perfect by any means, but you cannot deny the progress that's been made — without them.
Where else were we supposed to go? I wondered as I peered into the building, which was set to reopen soon as Ember Night Club and whose owners said they were envisioning a Vegas-style setup with St. Louis sensibilities. Church?
I wasn't seeking spiritual guidance, at least not on a conscious level, but the morning after the party, which was a Sunday, I spoke with a pastor about the challenge of trying to write about someone as polarizing — and elusive — as Nancy Novak.
The pastor, who had also been in The Grove the previous evening at the trans prom, responded with a story of his own. He'd performed a funeral once for a woman who owned a bar in a town of 2,000 in Wisconsin. "She lived out in the sticks, and at home she would let hunters and others come in and warm up," the pastor told me. "Everyone was welcome, no one was a stranger." He went on to say she was equally generous at her place of business. "At the bar, she was always helping people who were down on their luck," he said. "A sandwich here, a couple of bucks to sweep the floor there."
Because I'm interested in death in general and religious traditions in particular, I asked about the funeral service. "I talked about the ways she was living the gospel even though she never went to church," he said.
It's plausible, I think.
Am I suggesting that Novak is some sort of saint or quasi saint? Of course not. But she did help a lot of people, some of whom she knew, many of whom remain strangers to this day. I have no idea what she owes us for her mistakes, or what we owe her for the assumptions we've made about them and about her. Because of the countless examples provided by the times we live in, my guess is that Novak is judged a little more harshly, and that her fumbles are celebrated a bit more savagely, because she is a woman.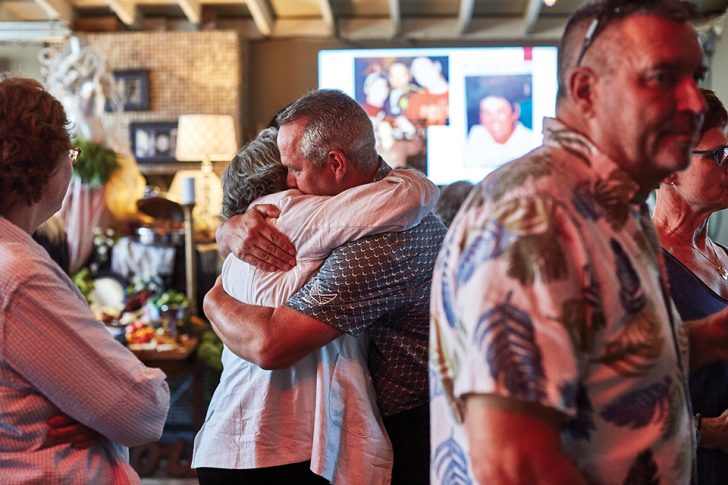 Finally, contrary to what she texted me, I think Novak is probably an incredible interviewee, particularly if you like your interviews unpredictable and a little on the raw side, which I do. But in the end, the story of Novak and what she contributed to St. Louis is not one that will be narrated by her, at least not now. Former neighbor McIntosh said he still sees groups of familiar faces from Novak's home and bar assembled on patios around town. "… and they still talk about it, and when they do their eyes light up. The end of Novak's left such a hole that was never filled. It was the end of an era."
The people whose recollective threads I find most compelling are those who conjure multi-faceted, layered and textured narratives of what Novak and the space she created meant in their lives. The story is theirs.
See also: Novak Piece Tests Out in STL Team.