Photographer Andreu Wade Blackwell Talks OnlyFans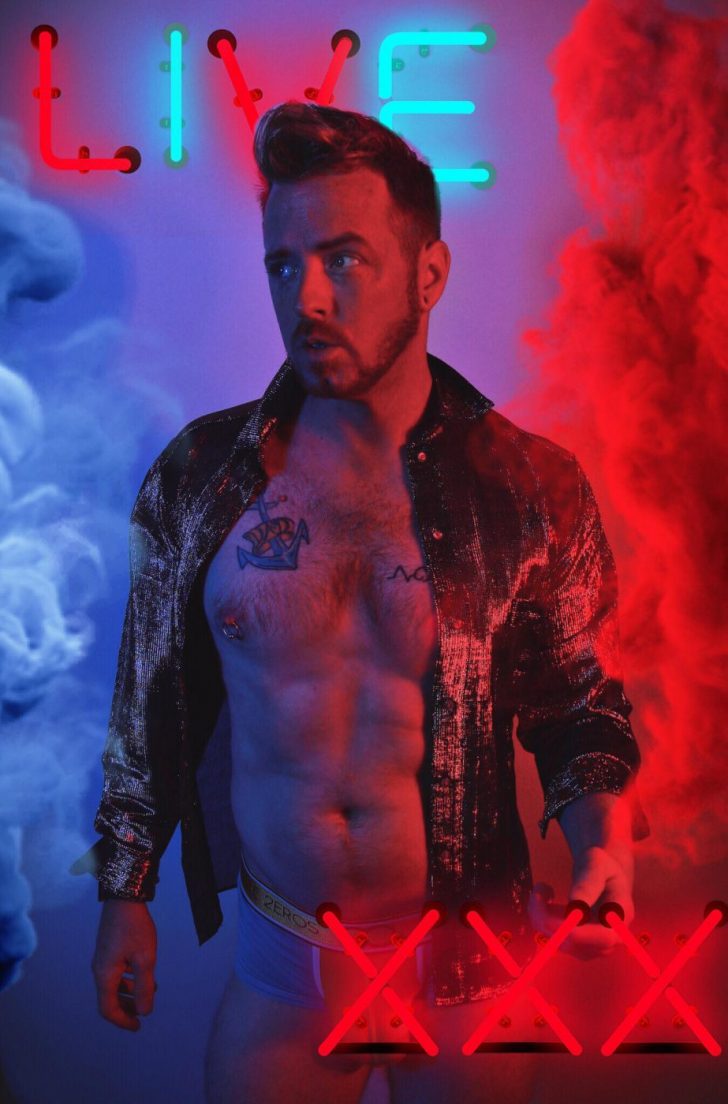 In our lifetimes, side hustles have never been more important to survival than they are right now. Even The New York Times has examined how people are turning to subscription sites like OnlyFans to make ends meet.
Andreu Wade Blackwell, widely known in St. Louis for his acclaimed drag photography, has joined those ranks to considerable success.
"I've always been the creative type and loved photography and how you can play with light in that medium, since middle school" Blackwell begins. "I know it's hard to believe but I'm pretty vain" he laughs, "but really anxious around people, so my first subject to photograph was myself. From then on, I grew my passion alone, and was teaching myself the skills I have now."
Blackwell dabbled with an OnlyFans page a few years ago, but it didn't take off.
"Which was a disappointment because I needed the money. I learned quickly that price per view is not what you thought you were worth, trolls will follow you anywhere, and I lost interest–and self esteem–so I stopped. Believe me, this isn't for the faint of heart, you cannot care, even one ounce, what people think about you. After all, you're putting your naked body out there for your peers to see."
As a full-time supermarket employee, Blackwell should have been well-insulated from the collapsing economy, but says his hours went from over 45 per week to no more than 28, due to his employer's decision to hire people needing work.
"Around week three of all of this madness I realized I needed to do something to make extra money since I couldn't file unemployment to make up funds. So here goes OnlyFans 2.0. With my knowledge of building my Instagram (walkerson_stl) to 20k followers, I logged back in to OnlyFans and started to upload new content. This time around, I felt loaded with knowledge about how to successfully run a profitable page."
Blackwell's Guide to OnlyFans Success
Create hype, but don't give away too much.
Set a price. Too high and people won't pay. You have to find the happy medium between making money and asking people in a recession to pay for your nudes.
Create new content often.
"I've learned that people will pay the $5 to see my page once and cancel their subscription right after. Cancel or not, I'm still making my mortgage payment with this site. The trick is slowly releasing content that entices people to keep their OnlyFans subscriptions month to month. How do you do that? Take requests, offer private chats and videos, pretty much make them feel special. Am I sounding like an online sex worker?" Blackwell laughs.
"You definitely border that line. And if that's not what you want people to think of you, then this platform is not for you. Remember, you have to face these fans in real life. Don't get me wrong, people are selling themselves on this site. But that's no different than on Facebook or Grindr. I've met great people with thriving lives that they've built on the profits from this site."
In the end, Blackwell stresses, it's a business.
"I guess what people should know is that this is just a business, not a lifestyle. We're not hookers or sluts. We're simply using our good-looking bodies, visually, while we have them, for a profit to get through a tough time."
With the economy in free fall, many are scrambling to stay afloat. Blackwell turned to OnlyFans to keep him uptown.
And I guess it did.