Picture it: St. Louis, 2003. You're a young queer person from southern Illinois, in the big city for your first-ever Pride parade. You're scared shitless, horny as hell and trying to look cool. You've managed to score prime real estate on the parade route because in your nervousness you accidentally showed up two hours early. Eventually other LGBTQIA people start trudging up next to you, complaining that the parade always starts way too early and that they and everyone they're there with are totally hungover and that they might throw up. This is the most thrilling conversation you've ever heard in your life. The parade is about to start and You. Are. Pumped.
Suddenly you hear a noise that is getting the crowd excited, but you can't make it out. Whatever it is, it's really loud, and it ain't no marching band. The noise starts to reverberate in your chest as it gets closer, and the women around you start to go wild. And that's when you see a dozen or more of the leather-clad, lesbian, bisexual, transgender, femme, butch, genderqueer, nonbinary bois and gurls that make up the Dykes On Bikes.
Like drag queens, transgender people and leather folks, the Dykes On Bikes have often been denounced for not representing a more palatable image of LGBTQIA culture. Advocates, however, argue that they are profoundly visible icons of our community who refuse to assimilate to America's arbitrarily proscribed behaviors and gender roles, and they actually remind us of the queer folks who kicked off the Stonewall riots in the first place.
LGBTQIA bikers have represented what the straight world historically and still often can't comprehend: queer men not as dainty stereotypes but as masculine, rugged guys celebrating their sexuality and queer women, not as sexless old maids, but as tough, in charge of their own lives and narratives, and challenging conventional ideas of what it is to be women.
As tough as LGBTQIA bikers may seem, they have a long history of community support, from their local queer organizations to people suffering during the AIDS epidemic. In recent years, exclusively transgender bike clubs have been popping up on the coasts, protecting folks from the alt-right and from Nazis harassing Black Lives Matter protesters.
Though American motorcycle culture began in the late 1940s and early 1950s, homosexuality was criminalized in many places at the time, making gay motorcycle clubs unique organizations seen as outlaws on two counts — their motorcycling and their sexuality. By the 1960s many LGBTQIA folks no longer felt the need for secretive underground organizations, and many activists started to reject the patriarchal hierarchy and militarized style of the early clubs.
While St. Louis' chapter of DOB disbanded years ago, and there doesn't seem to be any local queer bike clubs here these days, there are still a few local LGBTQIA bikers around.
Missie Tyson is very proud of her 1998 Honda Shadow 750 that she rides with The Ghost Doggs, a service-oriented motorcycle club based in St. Louis. At 49 years old, Tyson has been riding for five years but has always known she wanted to ride motorcycles. She knows of very few women who ride in town besides her daughter, Gigi, who is also in The Ghost Doggs. In fact, she and Gigi, who both identify as bisexual, are some of the only LGBTQIA people she knows who ride. Tyson's dad and cousins rode, and when one of her cousins passed away after a bike accident, Tyson saw an unbelievable outpouring of love and support for her family from the motorcycle community.
"I knew that's what I wanted to do with the rest of my life. I wanted to be a part of them. The gay community is the same," Tyson says. "Well, the drag community is the same."
The parallels Tyson makes with motorcycle clubs and LGBTQIA and drag communities are interesting, and I'd be lying if I said I weren't envious when I hear how the bikers support each other.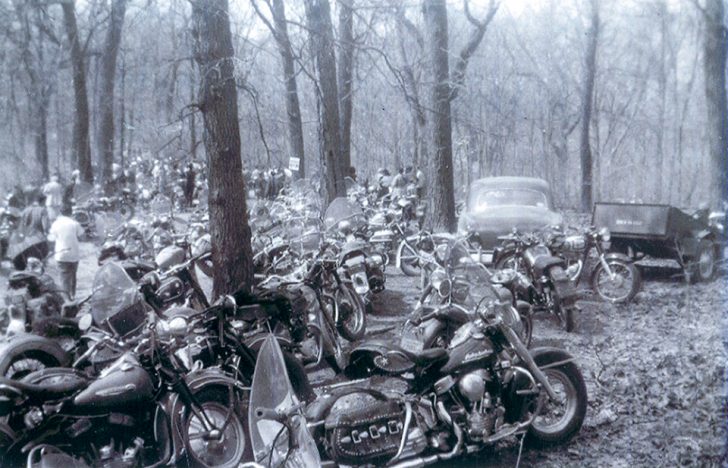 "When I first started doing drag back in 2006, I was one of the first black drag kings here," Tyson says. "And now I look around, and all these years later, I'm still one of the only ones.'"
Though Tyson, who performed with the Bent Boys as Mr. Meanor, retired from drag in 2011, she still does special-occasion shows to raise money for the community a few times a year, including Tips for Tatas, an annual fundraiser for those suffering from breast cancer. Tyson says she would perform more if there were venues accepting of kings and performers who were assigned female at birth, as well as accessible venues.
"My knees are bad these days and every venue you have to go up or down flights of stairs to the greenrooms. If you're disabled, it's very difficult to just be at LGBTQ events. I don't see any wheelchair accessibility here," Tyson says. "And it's hard for the drag kings to have community. We don't get paid nearly as much as the queens. We rock our performances, we bring out crowds and we raise money for the community, but we don't get the recognition, which means we don't get the gigs."
It's easy to see how to motorcycle community fills in the gaps the queer community leaves for Tyson.
"The second I was with my club, they were a second family to be with," she says. "And then I watched what they did for the community. We feed the homeless on Thanksgiving, we have a big Thanksgiving following. We feed the homeless on Father's Day. Our club always tries to do something for the community, and if we know of someone who needs something, we'll try to get together and do a chili cook or spaghetti dinner or something and try to get together and help the people in our community."
Betty D. Neeley, 84, doesn't recall ever riding with other women or seeing many other LGBTQIA riders. Her days of riding were before the Dykes on Bikes were around, and the only women who rode at all were a male rider's "old lady" or considered "property-of," chauvinist designations for wives or girlfriends still in use in some motorcycle clubs to this day.
"I rode with a whole group of guys, 29 of 'em," says Neeley. "What happened was, there was this place on Vandeventer called the Polar Bar, and all these motorcycles guys hung out there, and I talked this guy into letting me ride his bike. He said 'Have you ever rode before?' and I said, 'No, but I know I can do it. If you just let me, I know I can do it.' So I rode with 29 guys. But I was only fifteen. So I rode through the back alleys of St. Louis for a year because I didn't have a license yet. Yeah, I was one of those kids."
Betty Neeley is blowing my mind.
Her history really predates the LGBTQIA clubs in St. Louis, given that she started in 1949. Her career as a rider was ending just as the queer motorcycle clubs in St. Louis were starting to pop up.
"The last time I remember having a bike was around '74. There was a men's motorcycle group around then, I remember, but when I'd go to meet up with them at their hangout, there were never any bikes lined up out front. Everybody just looked like they were bikers," Neeley explains.
The idea of a bunch of Levi's- and leather-clad gay men carpooling to the biker bar is peak St. Louis, and I laugh way too hard.
"I do have a claim to fame that I'm really really proud of," says Neeley. "I was volunteering at the [LGBT] center on Manchester, and they had what they called the search for artifacts. And I saw right away that they had shit for women. So I took care of that. At Pridefest, I wanna say in 2014, I had a 60-foot-long table called 'Herstory,' and it was all women. A few of us put that together, and it was awesome. Things happened like, this woman came up with her son and grandkids, and I said 'So you got that turkey baster kid with you?!' He's the first one in the city that we know of. And I got to say to this young man, 'Hey, I've got a picture of the woman who brought you into town in the cooler on her bike in this book! This is you in the cooler on her bike!'"
In the beginning, gay motorcycle clubs gave us an opportunity to socialize with our people, often for sex. The first biker scenes were closely affiliated with what we now know as the "Old Guard" leather/SM culture, and the clubhouses, or "runs," became our first leather bars.
Tyson and Neeley, separated by generations, race and socioeconomic differences have one very interesting thing in common: They didn't have any examples of LGBTQIA people like themselves to look up to before deciding to live their lives the way they wanted to live them. Unfortunately, with groups like Dykes on Bikes not around in St. Louis anymore and most of its members gone, future generations may have to grow up the same way. With our last leather bar, JJ's, up for sale, who knows the future of biker/leather culture in St Louis.
Neeley laments, "I think the young people have no connection to any community much. That's what I see. I feel so bad that they will never know the camaraderie that older generations have had with each other."
When asked about her future in biking, Tyson says "I will ride until my health tells me I can't anymore. I see people riding in their 60s and 70s. I'd really like to turn my bike into a trike. If I'm not working or biking, I'll still be doing something for breast cancer survivors."
In the middle of our conversation, Tyson dramatically turns her head toward a different direction of the park, and I become worried. We're a bunch of queer women in a park at night, and she's clearly hearing something that has grabbed her attention. I ask if she's heard something and her daughter, Gigi, immediately chimes in.
"She hears a bike!" Gigi says. "She always does that." The two start to giggle. Tyson turns back with a huge grin on her face.
"Have you ever seen that cartoon movie Up? Every time that dog sees a squirrel?" she says. "That's me and motorcycles. I hear it and I tune everything else out to hear where the bike is and where it's going. I used to be able to tell what kind of bike it is by the sound but I can't anymore because people modify their bikes so much."
I realize it's silly to be nervous around these two. I'm hanging out with biker chicks.