Years ago, dining out as a vegetarian meant lots of limp pasta topped by wan microwaved mixed vegetables. Questions about ingredients yielded a rolled eye or a too hastily supplied answer.
The bad old days are over, and leading the charge locally is Tree House (3177 South Grand Boulevard, 314-696-2100), the South Grand mainstay that has brought vegetarian and vegan delights to a strip of excellent dining options from around the world. Plant-based food is no afterthought here — it's the whole show.
And what a show it is.
Evenings, you can go for snacks, small plates or entrees — and all the entrees are vegan. The smoky jambalaya with cornbread is a standout, but it faces hot competition from the fried beets and the Brussels sprouts salad. If you thought you didn't like Brussels sprouts, well, you're simply mistaken. The sweet-spicy bowl of gorgeous green will make you a convert.
Weekends, the brunch is well worth getting up for. The "Big Breakfast" will last you all day, with two from-scratch vegan "sausage" patties, eggs or tofu, potatoes and a damn-near-transcendent biscuit (you can swap it for a pancake if you really want to gild the lily, but why?). "Desayuno Latino," our personal go-to, features a black bean masa cake with a complex chimichurri sauce and eggs or tofu, with the option to top things off with dairy or vegan cheese.
There's a full bar with an ambitious cocktail program, and the fermented tea beverage known as kombucha. It's a chill spot for hanging out, and the occasional wait times at brunch just make the place feel a little hip and exclusive.
For vegetarians and vegans, it's a revelation to have options that aren't slapped-together appeasements. For omnivores trying to reduce their environmental impact, dining at Tree House is a delicious way to do so. And for stone carnivores humoring their plant-focused friends, it's a game changer. It's just good food, not the conspicuously grainy, beany, virtuous (tasteless) health food of yore.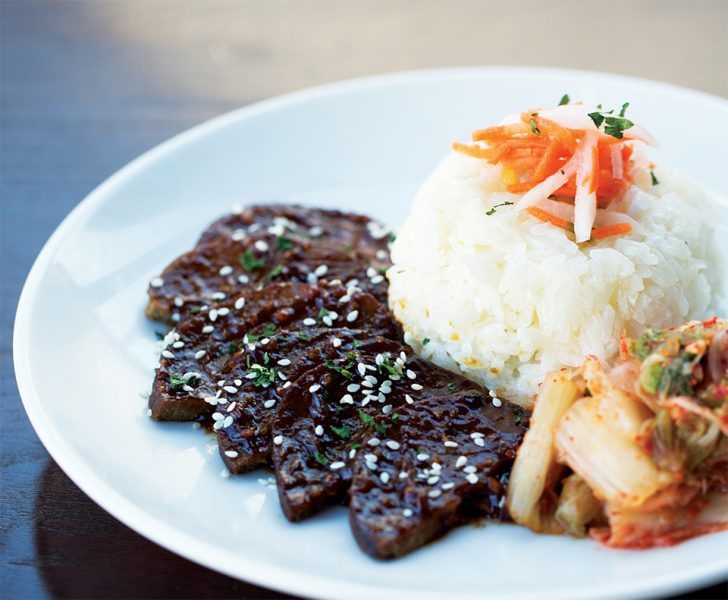 Tree House is Bay Tran's baby. She opened it six years ago this June, and remains extremely hands-on, developing the menu, sourcing ingredients and handling parties, wedding and other special events.
"Because we're sort of hitting our stride, the weeks and seasons just fly by," she says. "It's been a long road, but we've found our groove."
For her, the restaurant seemed like a natural project.
"I felt that there was a huge lack in the vegetarian niche in St. Louis," says Tran, who describes herself as a vegetarian striving to become a vegan. "I'd go out; there wouldn't be many options. You'd always have to wonder, 'Is there fish sauce in this?'"
Tower Grove South and the restaurant business go hand in hand for her.
"I've been living in this neighborhood for probably 25 years," says Tran. "I'm a neighbor and a property owner as well. I come from a third-generation restaurant family." Fittingly in light of her environmental values, she walks her 500-foot commute.
Tran opened the restaurant when she was 40, after a career in real estate. She had actually acquired the building seven years prior to opening the restaurant.
"We did a full historic rehab on the property," she says.
It shows. The interior and exterior are graceful and airy spaces that fit beautifully into the red-brick aesthetic of the neighborhood. Inside, intimate seating areas are punctuated by plants and flowers, and the bar is draped in living greenery, a lovely effect that highlights and recalls the plant-based cuisine being served.
When it's nice out, the patio is one of the city's finest. The seating area is bordered by planters that just might be the source of the herbs dotting your dish.
Tree House has evolved in its half-dozen years of life, and true to form, it has done so organically.
"It's almost developed into more of a vegan restaurant than a vegetarian restaurant because of demand," Tran says. The city's vegans were arriving en masse, and the kitchen attempted to make vegan and vegetarian versions of the same dish. Then Tran had an epiphany: "Let's make as many vegan as possible; we'd be able to accomplish both goals."
Tran has even more ambitious ideas for Tree House, whether that's a potential second location, more interesting menu items, or obtaining a small city garden plot to experiment with microgreens and other crops.
"We do a lot of special events, multi-course prix fixe meals two or three times a year," Tran says. (Confidential to my boo-thang: Maybe next year we can finally go for the Valentine's dinner??) "Those have been really fun for me. They push me. We're trying to create the best experience, especially for you, and it's built around that, not 'Let's see what vegetarian dish we can come up with.' Because of that, I think people expect a little more from us."
The menu rotates seasonally, and sometimes some favorites have simply done their time on the menu. But don't mess with success.
"We would have a lot of angry guests if we took certain things off the menu," Tran says. "The fried beets, the Brussels sprouts and the ravioli have become signature items."
Despite the idealism inherent in committing to a vegetarian or vegan lifestyle, the restaurant isn't an overtly politicized space, though there's certainly a welcoming vibe that fits well with the neighborhood. Your server might be a beautiful young queer (or not), but don't expect wacky LGBTQ puns on the menu.
"We try to keep our politics under the radar, because I feel that it is something that's more of a personal and private nature," Tran says. "We'll definitely hang the rainbow flag during Pride and things like that. I want as many people as possible to feel comfortable."
For Tran, it's important that the restaurant supports as much diversity as possible. Guests and staff alike feel comfortable being themselves and expressing what matters to them.
"That's something that's important for me, as a minority person, as a queer person, as a female," she says. "I feel I have that voice to speak up for other folks. We'll always stand up for what's right."
Tree House is open for dinner Monday through Thursday from 5:30 to 9:30 p.m., Friday and Saturday from 5:30 to 10 p.m. and Sunday from 5 to 9:30 p.m. Brunch Saturday and Sunday is from 10 a.m. to 3 p.m. See www.treehousestl.com for more information.