2 total results
Wed., May 23, 7 p.m.
314-367-6731
[email protected]
Literary Events, Free Events, Women's Events
Left Bank Books and the St. Charles City-County Library welcome bestselling author Mary Kay Andrews, who will sign and discuss her new novel, "The High Tide Club"! This event is free and open to the public, but registration is required at youranswerplace.org. Proof of purchase of "The High Tide Club" from Left Bank Books will be required to enter the signing line. "The High Tide Club" is Mary Kay Andrews at her Queen of the Beach Reads best: a story shrouded in mystery, Spanish moss, verandah cocktails, 1940s dinner dances, love lost, and possibly...love found. Free
http://www.left-bank.com/event/mary-kay-andrews
St. Charles City-County Library Spencer Road Branch
(map)
427 Spencer Road
St. Peters
636-441-0794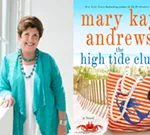 Sat., July 7, 12-4 p.m.
314-659-8467
[email protected]
Fashion, Women's Events
@ Parsimonia Vintage, 3194 S Grand Blvd
Sennit + Sauvage is home to a curated collection of leather goods and textiles for wear and decor by Allyson Wilmowski. All of her pieces are created by her hands in St. Louis, MO and are either one-of-a-kind or limited edition. Shop her selection of hand-painted and/or hand-dyed clothing and accessories as well as some small leather/textile goods, including pouches and totes. Customers will also enjoy 10% off Parsimonia purchases of $25+ that day! Free
https://www.facebook.com/events/589331968090455/
Parsimonia
(map)
3194 S. Grand Ave
St. Louis - South Grand
314-659-8467
Showing 1-2 of 2 total results in this search.